What Are Environmental Strategies?
This strategy focuses efforts aimed at establishing or changing written and unwritten community standards, codes, conditions, attitudes, norms, systems, and policies. This approach focuses more on the community than the individual. This approach is generally long –term, focusing on changing conditions in the shared social environment that contribute to or protect against gambling problems and consequences. Environmental strategies are comprehensive when they:
Change population – level norms
Reduce the available or opportunity to engage in negative behavior
Pass and enforce laws, policies, and practices.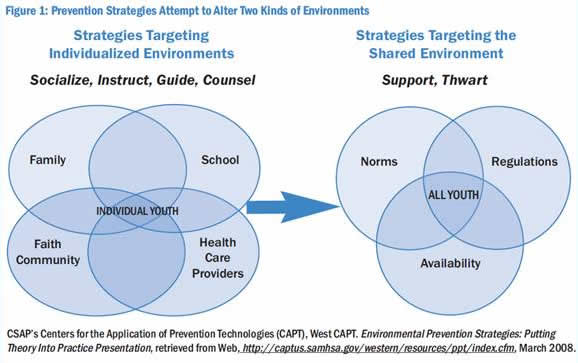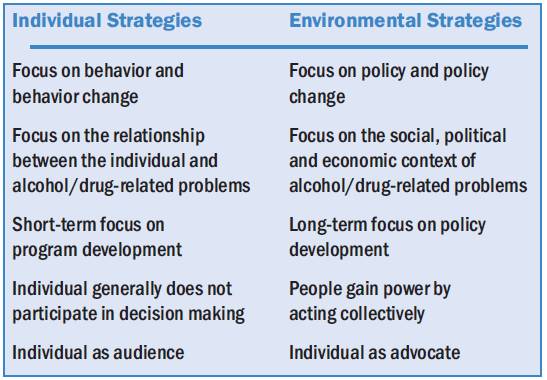 Examples of Environmental Strategies
Increasing fines for selling lottery tickets to minors
Increasing fines for allowing minors into gambling venues
Moving lottery tickets and advertising behind the counter
Decreasing advertising in convenience stores
Decreasing self service machines in convenience stores
Increasing access to treatment facilities by addresses cultural needs
Posting Billboards
Public Service announcements
Letters to the editor
Policy development in high schools
Policy development in college
Problem Gambling Court
Responsible clerk training
Reduce at home gambling
Enforce laws regarding unlicensed gambling
Compliance Checks
Reduce outlets that sell / have gambling
Restrict hours and days of service
Advertising restrictions
Conduct media campaign
Increase enforcement of laws on campus
Increase enforcement of laws on fake ID's
Decrease "casino night" events at high schools and senior centers
Increase price
Decrease "comps"
Environmental Assessment
Conduct an assessment of your community to determine the most appropriate strategies for your community. Before you begin you need to:
Read state laws regarding gambling
Read local laws / ordinances regarding gambling
Understand the process for obtaining gambling retail license
Understand the process for enforcing gambling laws
Understanding zoning laws in your community
Learn about local law enforcement agencies and their roles in your community including current efforts
Learn about the roles of local judges
Learn the political process in your community (who is currently elected)
Determine what other agencies are doing to address this issue.
You want to create a picture of the current state of the problem in your community. The use of data is critical, the smaller the population level (city block vs. neighborhood) the more you can focus in your efforts. IPGAP has many data sources listed on our website. Conduct your own surveys using qualitative and quantitative data. Environmental scanning is also an important tool in assessment. This may include visiting retail outlets in your area and counting the number of advertisements on windows. You can utilize the 4 P's of marketing:
Price: How much does the gambling activity cost?
Product: Do certain products appeal to certain people?
Promotion: Are they running in specials?
Place: Where is the gambling located? By the check outs?
Using Geographical Information System's is an excellent way to view data. The IPRC can create custom reports for your community. Here is a look at local data and state data on gambling behaviors: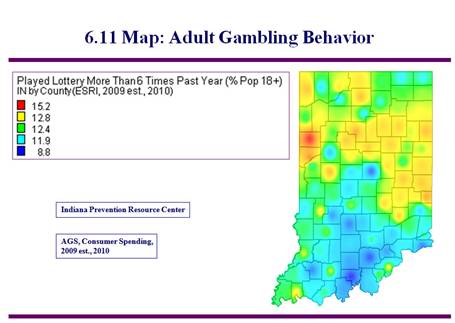 Consider local demographic and geographical features when determining strategies:
Does your community have a casino or racino?
Is charitable gaming the community activity or located at the community center / community religious setting?
Are you located on a boarder with another state or community that has more gambling?
Do you have a large percentage of teenagers home alone after school?
Do you have a large senior population (those living in retirement communities)?
References and links